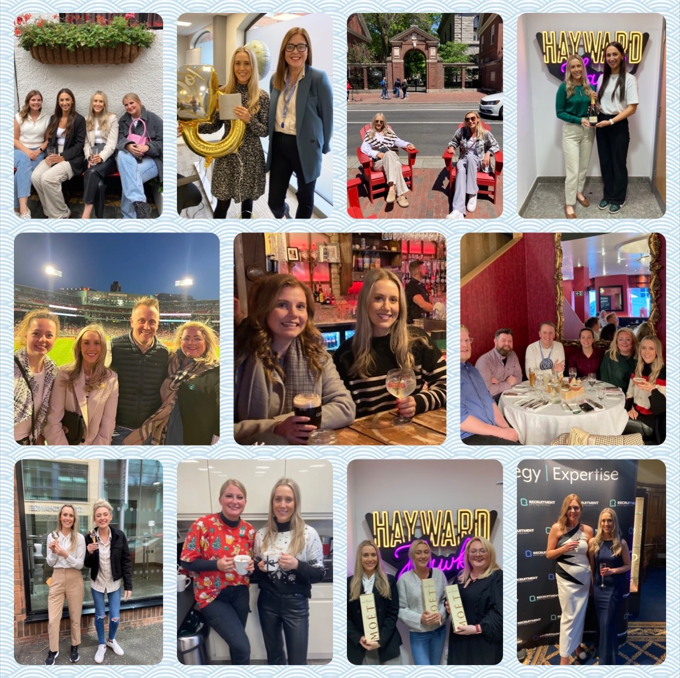 Stephanie French
Principal Recruitment Consultant
My name is Stephanie French and I have just celebrated my 3rd anniversary with Hayward Hawk and what a 3 years it has been!
I wanted to share some points on my experiences so far!
Challenges You Faced When Joining
I joined Hayward Hawk in September 2020, which was in the midst of the pandemic, so as you can imagine, that came with a few challenges! I had to meet new colleagues virtually and my role as a recruiter had changed – we couldn't get out to meet our clients and candidates which was a contrast to the previous ways of working.
How You Have Developed
I have developed professionally and personally over the last three years. On a professional level, I was selected to be a part of the Recruitment Entrepreneur Future Leaders Course of 2022, where myself and ten other consultants from the wider portfolio of over 30 agencies had an intensive week working with industry leaders and Directors to develop our skills. We worked through management, leadership, and the finances of the recruitment business which was an invaluable insight.
I've had two promotions in my time with Hayward Hawk and I sit on the Senior Management Team within the business. I've also developed my own market and hired someone to work alongside me, which has allowed me to progress into a manager and team lead.
On a personal level, I got engaged and bought my first home so there has been development there too haha!
Something Light And Fun About What It's Like To Work At Hayward Hawk
We don't take ourselves too seriously and between the hard work, we can have a real laugh! We have some great quarterly 'Away Days' (which usually involve food – perfect for me lol)!
What Do You Love Most?
I love that I am valued and rewarded for the work that I put in. We have a great commission structure but as well as that, we are rewarded in other ways – my favourite being the annual incentive trips as I love to travel! I have been to New York and Boston with Hayward Hawk and I look forward to ticking off more places!
Fun Fact About Yourself
I love to eat! Food and dogs are my biggest loves and I have a food page on Instagram called @HungryGirlNI so if you don't follow me, you should check it out for restaurant recommendations, easy recipes and too many to count pictures of my local Chinese takeaway lol !