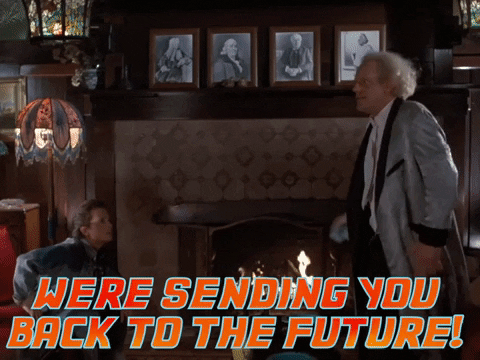 Although not *entirely* the same circumstances Marty Mc Fly accidentally found himself back in the eighties, but similarly, we are all trying to get back to the future.
How we might work in the future has always been a hot topic, but the ongoing pandemic has accelerated some trends and frankly turned others on their head. We don't know what the future holds, but if we begin to explore it now, we can get to grips with how our cultures are changing and how we will be able to thrive in a new era of work.
Flexible working is here to stay.
Before 2020, homeworking was relatively uncommon but by March 2020, many companies were catapulted into remote working overnight. Government restrictions led to further workplace closures and a move to full-time homeworking for many.
With 61% of desk-based workers indicating that they would prefer to work from home more often beyond the end of the COVID-19 pandemic, it appears that homeworking is likely to continue in some capacity for many employers. Huge companies such as Google, Microsoft, Salesforce and more recently, Spotify have announced that their employees will be able to work remotely for at least some of their working week on a permanent basis. This has sparked a new work revolution which will see more and more companies moving towards a hybrid working model, giving employees the opportunity to work remotely for part of the week and go into the office between 1-3 days a week post COVID-19.
Teamwork makes the dream work.
The ability to effectively work from home has undoubtedly been aided by new and evolving technology. Sure, Microsoft Teams and Zoom have made virtual meetings easier and have enabled teams to stay in regular contact with one another, but good old fashioned office chit chat and camaraderie does not translate the same way when working remotely. Pre-pandemic, carefully designed office spaces with break out rooms, ping pong tables, the infamous beer fridge to name a few all did the cultural heavy lifting for lots of businesses but now companies have been tasked with reimagining their culture for a world where 'in office' perks are inaccessible.
With mental health issues on the rise and quickly becoming a pandemic of its own, motivating and maintaining engaged teams has posed a huge challenge for company leaders. To embrace resilience and power collaboration, companies need to have employees who not only are strong and skilled – but who feel valued and supported. Continuing to adapt in a remote/ hybrid environment will undoubtedly shift company culture, but company leaders can use this as an opportunity to really get to know their culture, its characteristics and how they want to mould it going forward.
So, what now?
Once current government restrictions are lifted and we're able to venture back into the office, what might that look like? Hand sanitising, mask wearing, and social distancing will be the norm for quite some time but at this stage, most companies will have robust COVID-19 policies and procedures in place in preparation of employees returning to work so everyone can rest easy that their health and wellbeing will be a top priority before the office doors are flung open again.
Positive COVID-19 cases are declining and the most ambitious vaccination programme in the history of Northern Ireland is well and truly under way. We are currently in the middle of phase two and although no firm dates have been given, phase three is listed as 'Spring 2021', phase four as 'Summer 2021' and finally phase five, which has yet to be decided but is likely to involve a routine, targeted and possibly seasonal vaccination programme resembling the existing flu vaccination programme, is listed simply for '2022 onwards' which all sounds very promising.
COVID-19 has challenged the recruitment industry in inconceivable but despite these challenges – or perhaps because of it – Belfast is fast becoming one of the UK's most promising new technology hubs. Technology companies in Northern Ireland had a record year for funding, bringing in £45.6m in investment in 2020. The future of work is arriving fast for many companies that are using innovative ideas and solutions to transform their workplaces, workforces, and the nature of work itself. With so much technology shaping our future, maybe you'd like to pursue a career at the forefront of this sector?
In the words of Doc Brown himself… "Your future hasn't been written yet. No one's has. Your future is whatever you make it. So make it a good one."
Are you ready to go back to the future?