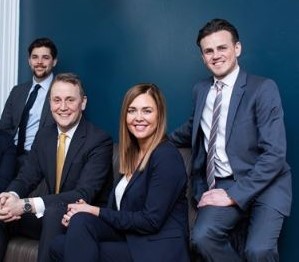 Over the past three years, Hayward Hawk has made its mark in the technology recruitment market, growing from a plucky start-up to a team of more than 20 hawks.
Along the way they've built a reputation for having; a unique approach focused around establishing long-term relationships, which they warmly refer to as #relationshipgoals, and a strong culture of inclusivity and encouragement.
Led by directors, Anthony Stuart, Richard Waterson, and Stephen McDowell, they've invested in a partnership with Gemma Murphy to create a professional services business operating under the well-recognised Hayward Hawk Group brand.
Welcoming the introduction of the new female board member set to bring a different dynamic to the group, Director, Stephen McDowell said, "I worked with Gemma back in 2011, before we launched Hayward Hawk. We kept in touch as she was always someone that Richard, Anthony, and I had in mind to help us grow the business. When the opportunity presented itself to invest in one of the best recruiters in Northern Ireland, it was an easy decision".
(Gemma Murphy, Founding Director of Hayward Hawk Professional Services and below, with Hayward Hawk Technology Directors, Anthony Stuart, Stephen McDowell, and Richard Waterson, together at the Belfast office in Donegall Square).
Chairman James Caan said, "In my recent trip to Belfast, I had the pleasure of meeting Gemma, as part of the new joint venture. What struck me most was how rapidly the company has grown since starting out only three years ago. One of the key aspects of continued growth and success of any business is bringing in the right people. It's evident both with the existing team and with the addition of the new enterprise, they have achieved this in abundance".
Already recognised as an established hub for financial services technology investment, more and more multinational institutions are bringing their business to Belfast. Alongside the global players, high-quality talent and low labour attrition rates have allowed brands to quickly flourish, resulting in a diverse and active professional services market in the city and surrounding areas. All this activity makes it a natural choice for Hayward Hawks' diversification.
Talking about the launch, Founding Director Gemma Murphy said, "The Irish professional services market is extremely buoyant with many large businesses recruiting at pace across a range of sectors, including; accountancy and finance, legal and compliance, sales and marketing, and HR. Collectively, as a wider team, we have over 30 years specialist recruitment experience and saw an opportunity to create an offering unique to the Irish market – a recruitment business focused on putting the candidate and client experience at the centre of what we do".
Northern Ireland's population tipped to reach two million by 2026. 18.6% of the city's population is younger than 15 years old, while 41.6% are under 30. The high standard of education, with the city hosting a Russell Group university (Queen's University Belfast), is one of many factors that have led to its top global ranking for quality of living (Mercer), which has helped prompt a renewed commercial interest. Other elements include affordable living costs, easy access to natural resources, and low-cost office space. According to Start-up Cities Index, in 2017 Belfast was voted among the top UK cities to start a new business, with salary costs lower than the rest of the UK and a commitment to reduce corporation tax to 12.5%. Plus, it was the second most successful in the UK (after London) in attracting US tradeable services FDI projects.
Taking the decision to establish Hayward Hawk Professional Services as a separate business under the Hayward Hawk Group brand was an important one, Director Anthony Stuart, said "Although the day to day running will operate independently, we would be foolish to ignore the opportunity for collaboration. Having four senior business leaders discussing company challenges, best practice, global growth strategies, etc. is a huge advantage. The new structure also facilitates; regular companywide meetings, incentives and away days, to encourage further knowledge sharing between consultants and ensures we maintain our hawk family culture".
Advising on how the new partnership will impact existing Hayward Hawk clients and candidates, Director Richard Waterson, said: "The ability to offer clients and candidates wider specialist support as well as access to an expanding and more diverse network of industry contacts, is of significant commercial benefit to us both".
Recruitment Entrepreneur's CEO, Abid Hamid, commented, "Our Irish investments are excelling across all areas, making it the perfect time for Hayward Hawk to extend their offering and we welcome Gemma to the wider global portfolio".
They also plan to launch a redesigned website to include the Hayward Hawk Professional Services brand at the beginning of June.