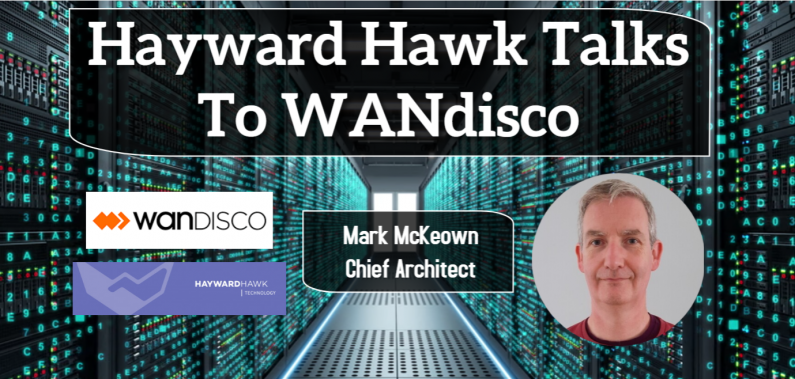 At Hayward Hawk, we're shining a light on some of the amazing companies and people we get to work with every week, from new starters right through to leaders. We aim to bring you insights across a range of areas and generally give you a better understanding of what each company does, here in NI.
Recently we sat down with the fantastic Mark McKeown, Chief Architect within WANdisco and asked him a few questions about the company, how it has progressed over the years, how it has managed throughout the pandemic and what the business does to support its staff.
What do you do at WANdisco?
I spend most of my time working on customer problems and adding new features to our products. I like to code. I often get the chance to talk to customers to discuss what they need from the product and work out how our products can be improved to help them. At WANdisco we face difficult technical problems and we work through them as a team: discussing options, agreeing a solution and then implementing it. It's nice then to talk to the customer after we have delivered the feature and see them using it and valuing it.
Another part of my job is helping with recruitment. I enjoy meeting new people who are interested in working at WANdisco; talking about the products we build, the problems we work on and what it's like to work at WANdisco. I like learning about what candidates are working on in their current role and what they find interesting and challenging.
Why do you like working at WANdisco?
At WANdisco you are always learning and facing new technical problems, working through those problems with the team is rewarding. I have been part of projects from the very beginning and it is nice to see them being delivered to customers as complete products and see those products become part of the customer's critical infrastructure.
Solving interesting and hard problems was the motivation behind Yeturu Aahlad, one of the company founders, forming the company and that ethos still exists. As part of this we sponsor a PhD student at Queen's University Belfast who collaborates with Aahlad, I get to be part of this collaboration too.
I love to see how people who joined the company in a junior role mature and learn to become key people in the company.
Perhaps the most rewarding thing about working at WANdisco is working with the people in the Belfast office - I enjoy the atmosphere and culture in the office, people like to build good products but also to have a laugh.
How has the company progressed since you joined?
When I joined the Belfast office there were 7 developers in the office, now there are over 40 people with the complete range of jobs covered: Sales, Product Ownership, Project Management, Dev, QE, UX, Customer Success, Documentation. Everyone mixes well across the teams in the office and you can get a full view of the company in the office - from selling the product to supporting it in production.
In terms of products, when I joined the company it was focused on Source Control Management software, replicated Subversion. I was the first developer on our Git replication product and now it is critical infrastructure for companies with thousands of developers. WANdisco moved into Big Data with Hadoop replication and is now targeting Big Data replication and migration into the cloud. We have a partnership with Microsoft to deploy our technology as a native service inside Azure - we are the first third-party company to do this with Microsoft.
WANdisco has changed from being an Enterprise Software company to a Cloud focused company, we are not just using cloud technology, we are helping to develop it with Microsoft.
This has meant we have always been at the leading edge of new technology - continuous integration, containers, cloud technology etc. When new people join we expect them to bring new ideas and tools to make the development process better.
How has the pandemic affected things at WANdisco and what changes did the company make?
WANdisco had a culture where people would often work from home, but the change to everyone working from home all the time was big. One brilliant initiative by the company was POETs day (Piss Of Early Tomorrow is Saturday) - every second Friday people get the afternoon off, before we take the afternoon we get together on a Zoom call to hangout and play games. Recently we have been meeting outside the office and for POETs day lunch - burritos or "Chips and Champagne"!
Another good thing was that each person gets an allowance for buying stuff for working at home, people can take whatever they need from the office but also have a budget to buy extra gear - I got a nice working lamp!
Making new starts feel part of the team during the pandemic has been very important to us.
Starting a new job can be difficult even without the pandemic, so we make sure new starts are connected to people and get all the help they need so they can be productive.
How does the business support you?
The one thing that jumps out for me is its holiday policy. The company does not set a limit on the number of days you can take. When I started this seemed weird, I asked HR and they said you have to take more than 20 as that was the law. Initially I planned to match what I took at my previous job - but now I don't count. This is nice as sometimes my daughter is in hospital for a few days for routine procedures - I take the day's PTO and bring my laptop and do some work if I am bored, but it's nice not to feel pressure to do work and make up the hours.
We currently have a range of options with WANdisco in Belfast. If you are interested in hearing more about any opportunities across Software Engineering, QA, Technical Documentation, Product Management, DevOps or more, please feel free to reach out to Kevin Tansley for more information; kevin@haywardhawk.com or 02895902677