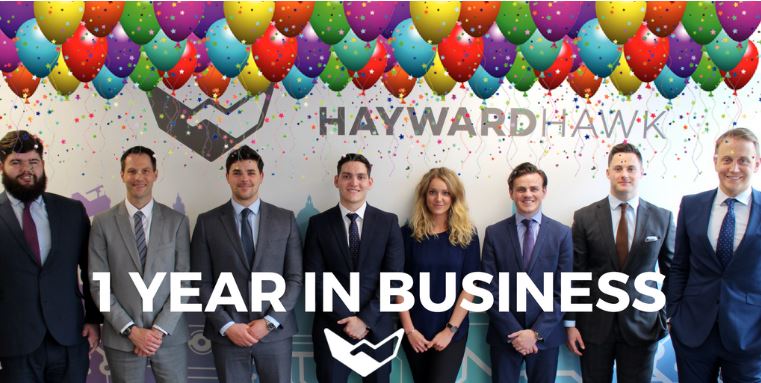 Blow up the balloons, get the party horns at the ready, put the candles on the cake and put your party hats on. Hayward Hawk has turned 1!! Yes, we are still a baby in the big bad recruitment world, but we are well on our mission to helping top tech professionals and companies work, live and grow that little bit happier. I know this post is a little belated, but the whole recruitment thing kinda got in the way.
In one year we've managed to bring together a crack team of 8 awesome people (recruiters are people too) that have helped over 100 tech professionals secure a new role, which has helped over 49 NI and Irish companies to secure top tech talent and to grow their businesses. 2 employees are now happily married. We have made 170+ tweets, 60+ pics posted to Instagram and 11 blogs published. We have had 6 walls completely painted with whiteboard paint for brainstorming sessions and scheming. We have also shaken hands with James Caan approximately 24 times, been on his boat in Monaco once, and taken on board more advice and mentorship than we could ever quantify.
We would like to thank our amazing clients who gave us the opportunity to work with them at such an early stage. It takes a brave client to work with a company that is pitching a 1 day old business :)
Next year we have even bigger growth plans (think 20 technology consultants), and have active plans to…
-Expand into the ROI technology market
-Move into much bigger office space
-Hire more female recruiters
-Write even more recruitment-ish related musings
-Post even more pics of the hawks
-Experiment, refine and explore how to give the best recruitment service in a forever changing market
Think that's doable? Let's give it a try!