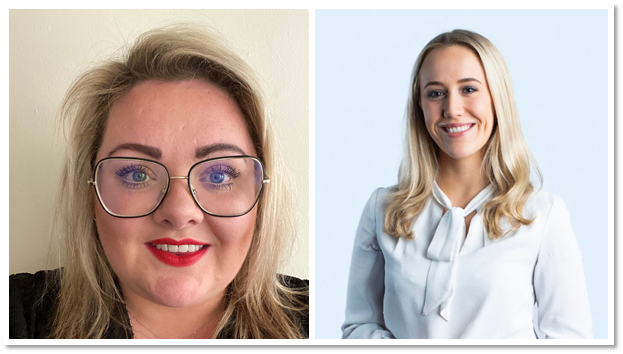 Hayward Hawk Professional Services are delighted to welcome two new senior hires to the team.
As a business they strategically partner with some of Northern Ireland's leading employers, with a key focus on accountancy and finance, legal and compliance, banking, HR, business support, and sales and marketing.
As part of the Recruitment Entrepreneur portfolio, an award-winning recruitment investment business founded by James Caan CBE, Hayward Hawk Professional Services are part of a community centred on industry expertise. The team takes a hands-on approach to confidential and consultative recruitment with a clear focus on quality service, transparency, and delivering excellent results.
Gemma Murphy, Director at Hayward Hawk Professional Service Director, stated "As the professional services industry starts to recover towards the end of 2020 and into 2021, we are delighted to invest in two experienced professionals to service our Business and Accountancy Support desks – both on a permanent and temp/contract basis."
"The team here at Hayward Hawk have dedicated time to connect with the wider talent pool throughout the industry in the last six months. Our new consultants have been selected due to their excellent reputation in the local market and on their ability to deliver."
With 5 years' experience in the industry, Stephanie French is joining the team to recruit into the business and accountancy support function for professional service organisations. As a recruiter, Stephanie provides an exceptional level of service by adopting a conscientious approach and understanding of the unique nuances of each position and person.
Katie Doyle, an experienced recruiter with 7 years' in the industry, will support clients in sourcing contract and temporary professionals. In recent months we have seen a significant increase in demand from our clients for temp/interim positions. We are therefore expanding our services into this market to further solidify our position as a trusted and valued recruitment partner.
Abid Hamid, CEO of Recruitment Entrepreneur, commented "The business has performed exceedingly well in the past six months. The team have consistently been checking in with clients and candidates to get a good understanding of the market and offer advice and support. Their attitude and drive have been phenomenal, which is reflected in their new hires".
If you are recruiting in professional services, business support roles, or contract or temporary professionals, contact us on 02896 931370.
About Hayward Hawk Professional Services
We're Hayward Hawk Professional Services. We're part of the Hayward Hawk Group, backed by
James Caan CBE: one of the original investors on Dragons'​ Den, serial entrepreneur, and one of the biggest names in recruitment.
Our extensive knowledge and network have secured our positions as trusted advisors to some of Northern Ireland's leading employers. We partner with our clients to source the highest calibre of talent, helping them grow their business and achieve their commercial objectives.
We put our candidates at the centre of everything we do with a clear focus on quality of service, transparency and delivering results. Our approach is strategic, confidential and consultative – aimed at helping you take the next step in your career and ultimately achieve your long-term professional goals. Our candidate testimonials speak for themselves.